SUBSCRIBE to Swing Time's Weekly Email Newsletter
Swing Time Newsletter — Monday OCT 24th 2016
Balboa lessons start Wednesday, November 2nd, at the Gulfport Casino Swing Night. Learn Balboa, the top dance craze in the swing world! ...and if you already know Balboa, take these classes to practice, to add to your repertoire, and to increase your Balboa skills. There'll be five one-hour classes in Balboa, the five Wednesdays in November, 6-7pm, featuring instructors, Sam & Teresa. Each class covers different moves, steps, and topics in Balboa dancing. No prerequisites. Just $8 gets you each class AND the swing dance that night!
---
Swingin' the New Year — 8 Days Left — Earlybird Special — Purchase by October 31st to save $8 per ticket!
Tickets available online or Wednesday at the Halloween Costume Ball
---
---
THIS WEDNESDAY (OCT 26) — HALLOWEEN COSTUME BALL
Note special starting time —> Doors Open 6:45pm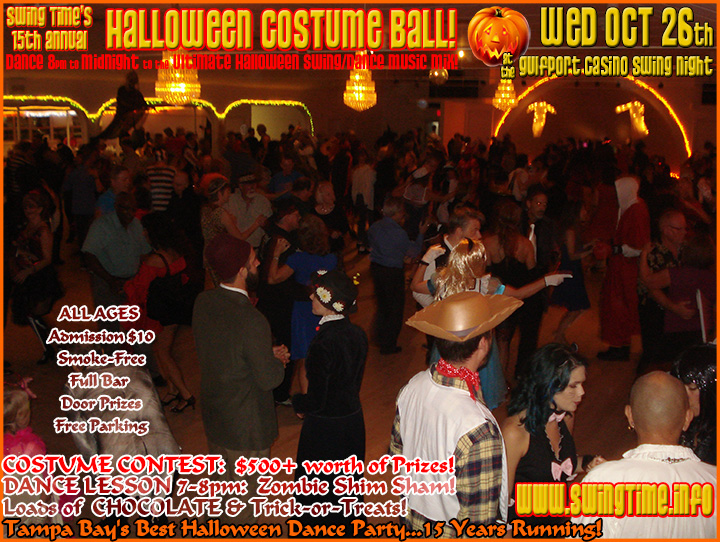 This Wednesday, October 26th, put on your best costume and swing with all sorts of exciting characters! It's Swing Time's 15th Annual Halloween Costume Ball at the Gulfport Casino Swing Night! The Ball starts with a Shim Sham Lesson (Zombie-Style!) 7-8pm. Starting at 8pm, dance 'til the midnight hour to the Ultimate Halloween Swing/Dance Music Mix... that's right! — all Halloweeny music, all the way to midnight! The Halloween Costume Ball features a Costume Parade & Contest with $500+ worth of Prizes for the best costumes. There'll be loads of Chocolate, Candy & Trick-or-Treats; Door Prizes; a Zombie Shim Sham; a Steal Dance Mixer; plus Special Halloween Decor & Atmosphere! Gulfport Casino's vintage waterfront grand ballroom is smoke-free and provides a full bar and free parking. Just $10 admission includes everything, and all ages are welcome. (No free passes or student specials accepted at this special event.) Experience Tampa Bay's Best Halloween Dance Party... fifteen years running! More Info
Costume Contest — Prizes for: Best (Overall), Best Hollywood, Best SciFi, Best Disney/Cartoon, Best Superhero, Best Historical, Scariest, Funniest, and Most Original. Enter contest before 9:30pm. Prizes include a Dolphin Watch or Sunset Sail Cruise for Two, courtesy of Dolphin Landings Charter Boat Center, tickets to the Suncoast Jazz Classic Swing Dance, gift certificates to La Cote Basque Winehouse Restaurant, tickets to dances, and other great stuff!
---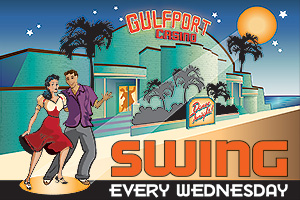 Wednesday, November 2nd, is the Gulfport Casino Swing Night, with Balboa Lesson 6-7pm, Swing Lesson 7-8pm, and Dancing 8-11pm. Just $8 includes both lessons and the dance, and students get $5 admission. Is your birthday coming up? Celebrate your birthday at the Gulfport Casino Swing Night.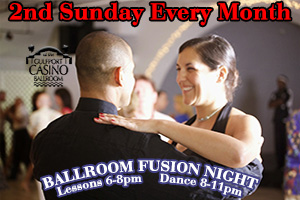 Sunday, November 13th, is Ballroom Fusion Night at the Gulfport Casino, with Carolina Shag Lessons 6-8pm, and Dancing 8-11pm to a variety of music for a variety of dances. Just $8 includes the lessons and the dance, and students get $5 admission. Swing Time welcomes special guest instructor, Renee Lipman, who will teach the lessons prior to the dance. Ballroom Fusion Night is partnered social dancing "outside the box", featuring lessons and music for today's most popular partner dances, plus exciting new dance music! Ballroom Fusion Night is held the 2nd Sunday of every month at the Gulfport Casino.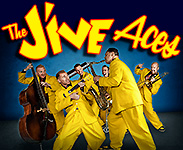 8 Days Left — Earlybird Special — Save $8/Ticket — Purchase by October 31st
Swingin' the New Year features UK swing sensations The Jive Aces at the spectacular St. Petersburg Coliseum! This Grand New Year's Eve Celebration for All Ages is Florida's biggest annual swing-dance event...make plans now to join us! Buy tickets now to get the best seats. Group discounts and VIP Alcoves and Tables are available for parties of 10 or more. Alcove Special — 28 Tickets + Private VIP Alcove for $700 — Purchase by October 31st. Info & Tickets — www.NewYearSwing.com
SWING TIME SECTION — We've reserved a central block of 60 of the best seats in the house for Swing Time regulars, and are selling these Wednesdays at the Gulfport Casino Swing Nights, while they last! Buy one of these tickets and you'll be among friends and fellow dancers. Tickets in the Swing Time Section are available exclusively to dancers who attend (and purchase them in person at) prior Swing Time events.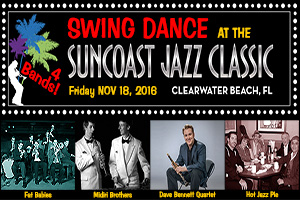 Friday, November 18th, the Suncoast Jazz Classic festival hosts its 7th annual Friday Night Swing Dance at the Sheraton on Sand Key (Clearwater Beach). The dance features an amazing lineup of live music, featuring four superbly swinging bands from across the USA! This is a must-attend event for swing dancers, balboa dancers, lindy hoppers, and music lovers who appreciate swinging big-band and traditional jazz. Get ready to dance to some world-class live music! Each band performs one full hour's set of music for your dancing pleasure. The evening's lineup is 6:30-7:15pm Swing Time Dance Lessons, 7:30-8:30pm Hot Jazz Pie (Orlando, FL), 8:45-9:45pm The Midiri Brothers (NJ/NY/PA), 10:00-11:00pm The Fat Babies (Chicago, IL), and 11:15pm-12:15am Dave Bennett Quartet (Detroit, MI). Tickets are $22 online in advance or $25 the day of event. Special advance tickets are available for just $20 at all prior Swing Time events...you must purchase these in person. More Info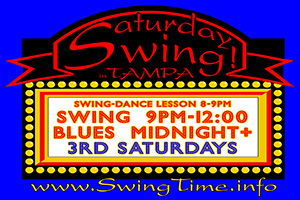 Saturday, November 19th, is Saturday Swing in Tampa, with Swing Dancing 9pm-12:00, plus Blues Dancing starting at midnight! Join us at 8pm, prior to the dance, for the Swing Dance Lesson. Admission is $10 before midnight (includes lesson, swing dancing, and blues dancing), or $5 after midnight (includes blues dancing only). All ages are welcome, no partners are needed, and prizes are given away at intermission. Saturday Swing happens the 3rd Saturday of every month at Simone Salsa studio, 8336 W. Hillsborough Ave., Tampa, FL 33615. Simone Salsa features awesome atmosphere, lighting, and sound; its own free parking lot; and a large smooth hardwood dance floor.
---
Spread the word! Join our events on Facebook and invite friends:
Halloween Costume Ball @ Gulfport Casino Swing Night — WED 10/26
Swing Dance @ Suncoast Jazz Classic with 4 Top USA Bands! — FRI 11/18
Swingin' the New Year Celebration featuring Jive Aces! — SAT 12/31
---
GET THE SWING NEWS Delivered to Your Email

© All contents of this web site (www.SwingNews.com) except where otherwise stated are Copyright 1998-2017 Retro Production Company with all rights reserved
---