SUBSCRIBE to Swing Time's Weekly Email Newsletter
Swing Time Newsletter — Monday NOVEMBER 12th 2018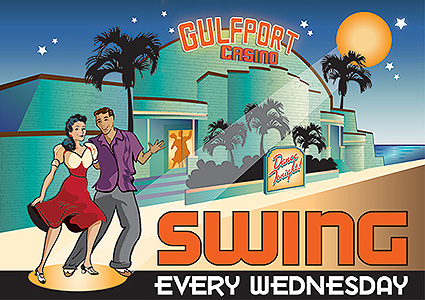 Wednesday, November 14th is the Gulfport Casino Swing Night, with Lindy Hop Lesson 6-7pm, Swing Lesson 7-8pm, and Dancing 8-11pm. Just $8 includes both lessons and the dance, students get $6 admission, and birthday people get free admission.
Lindy Hop lessons happen every Wednesday in November, 6-7pm, at the Gulfport Casino Swing Night featuring instructors Sam & Teresa.
Last Chance — Special advance tickets to Friday's Suncoast Jazz Festival Swing Dance are available for $20 this Wednesday at the Gulfport Casino Swing Night.
Your November Dance Passport — Show us your Swingin' the New Year ticket for $1 off admission to every Swing Time and Swing Gang dance in November! That includes every Wednesday's Gulfport Casino Swing Night, Wednesday November 21st's Pre-Thanksgiving Swing Bash with the Hot Rod Hornets, and more! Just flash your Swingin' the New Year ticket (or your email confirmation if you're a Will Call ticketholder) at the door when you show up for any of the above dances. If you don't yet have your New Year's Eve ticket, you can get it this Wednesday at the door or online now at www.NewYearSwing.com.
New Year's Eve tickets are on sale Wednesdays in two areas: the Swing Time Section and Gulfport Dancers' Alcoves #8 & #9. The Swing Time Section is a central block of great seats on the dance floor level. Gulfport Dancers' Alcoves #8 & #9 are a combined double-alcove in the usual spot reserved each year by Gulfport swing dancers for a potluck and party within the party. Tickets in these sections for Swingin' the New Year (St. Petersburg Coliseum) are available, first-come first-serve, while they last, to dancers who purchase them in person at prior events.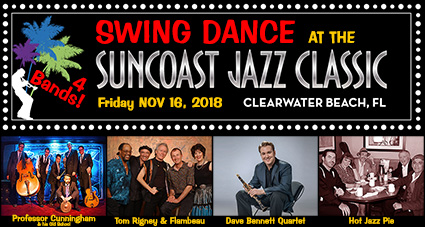 This Friday, November 16th, the Suncoast Jazz Festival hosts its 9th annual Friday Night Swing Dance at the Sheraton on Sand Key (Clearwater Beach). The dance features an amazing lineup of live music, with four superbly swinging bands from across the USA! This is a must-attend event for area dancers. Each band performs one full hour's set of music for your dancing pleasure. The evening's lineup is 6:15- 7:15pm Swing Time Dance Lessons, 7:30- 8:30pm Hot Jazz Pie (Orlando, FL), 8:45- 9:45pm Tom Rigney & Flambeau (San Francisco, CA), 10:00-11:00pm Professor Cunningham & His Old School (New York, NY), and 11:15-12:15am Dave Bennett Quartet (Detroit, MI). Tickets are $22.50 online in advance or $25 the day of event. Special advance tickets are available for just $20 this Wednesday at the Gulfport Casino Swing Night...you must purchase these in person. All proceeds benefit the Suncoast Jazz Festival. More Info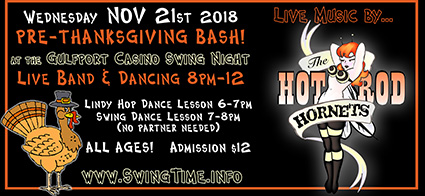 Wednesday, November 21st — With Thanksgiving on Thursday, the weekend starts Wednesday night, when Swing Time hosts a special evening of live music and swing dancing! Join in celebration at the Gulfport Casino Swing Night for Swing Time's Pre-Thanksgiving Bash! This huge swing-dance party is always one of the biggest Wednesday Swing Nights of the year, attracting not just locals but out-of-towners who are home for the holidays.
The Bash features live & swingin' music by the Hot Rod Hornets! The evening starts with a Lindy Hop Lesson 6-7pm, followed by Swing Lesson 7-8pm, then Live Music & Dancing 8pm-midnight. Admission's just $12 (get your tickets at the door), all ages are welcome, no partner is needed, and it all happens in the spectacular waterfront ballroom of the Gulfport Casino!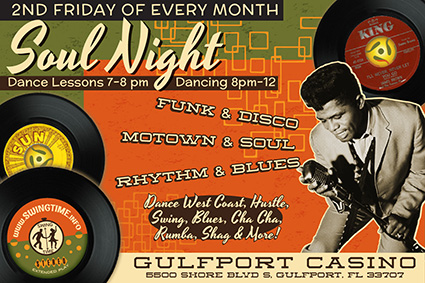 Friday, December 14th is Soul Night at the Gulfport Casino. Dance 8pm-midnight to the best in Funk, Soul, Disco, Motown, Rhythm & Blues, featuring an exciting mix of retro & modern dance music, great for a variety of partner dances (Hustle, Swing, West-Coast, Blues, Fusion, etc) plus group, line, and freestyle dancing! Arrive early for a Soul Line Dancing Lesson 7-8pm. Just $10 includes the dance AND the lesson. Students get $6 admission if they show up by 7pm and take the lesson. Soul Night happens at the Gulfport Casino the 2nd Friday of every month.
Join special guest instructor, Angie Causey, and the United Soul Line Dancers of Florida for a Soul Line Dancing lesson at 7pm. You'll learn three new soul line dances, and you'll get to dance them all later during the dance! Dance instructor & choreographer, Angie Causey, is founder of the United Soul Line Dancers. She's been dancing and teaching for over 10 years, and regularly travels and teaches all across the USA.
Make plans now to attend Swingin' the New Year at the spectacular St. Petersburg Coliseum featuring live big band, Gloria West & the Gents, plus midnight balloon drop, dance performances, and dancing with your favorite friends! Ticket options this year include: A) Start or Join a Group, B) Choose Your Own Seats, C) VIP Round Tables, D) Alcoves and more. Swingin' the New Year is Tampa Bay's best New Year's Eve dance party...get ready for the fun to begin! See www.NewYearSwing.com for tickets and full celebration info.
---
GET THE SWING NEWS Delivered to Your Email

© All contents of this web site (www.SwingNews.com) except where otherwise stated are Copyright 1998-2019 Retro Production Company with all rights reserved
---