SUBSCRIBE to Swing Time's Weekly Email Newsletter
Swing Time Newsletter — Monday MARCH 4th 2019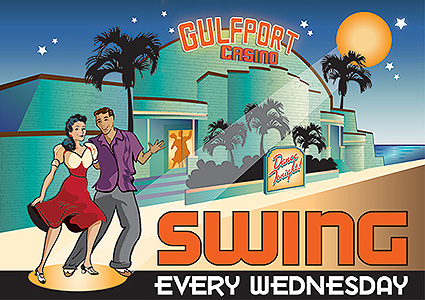 This Wednesday, March 6th, is the Gulfport Casino Swing Night, with Blues-Dance Lesson 6-7pm (Instructors Will & Katy), Swing-Dance Lesson 7-8pm (Instructors Sam & Carleene...Yes, CJ is making a special guest appearance, all the way from England!...come dance with her), and Dancing 8-11pm. Just $8 includes both lessons and the dance, students get $6 admission, and birthday people get free admission.
Blues Dance Lessons happen every Wednesday in March, 6-7pm, at the Gulfport Casino Swing Night, featuring special guest instructors, Will & Katy Flanery. Blues Dancing, simply put, is techniques for dancing to slower music, whether it be groovy, funky, soulful, modern, ballad, or actual blues music. Come any week, or take all four for the full experience!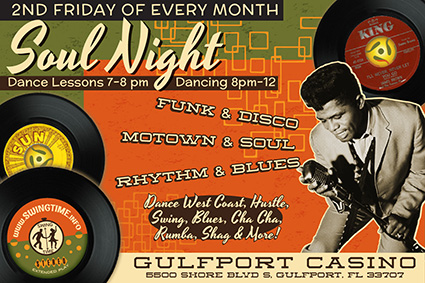 This Friday, March 8th, is Soul Night at the Gulfport Casino. Dance 8pm-midnight to the best in Funk, Soul, Disco, Motown, Rhythm & Blues, featuring an exciting mix of retro & modern dance music, great for a variety of partner dances (Hustle, Swing, West-Coast, Blues, Fusion, etc) plus group, line, and freestyle dancing! Arrive early for a Rumba Lesson 7-8pm. Just $10 includes the dance AND the lesson. Students get $6 admission if they show up by 7pm and take the lesson. Soul Night happens at the Gulfport Casino the 2nd Friday of every month.
Lesson Info — Learn Soul-style Rumba...how to Rumba to Soul music! This class, taught by Sam from Swing Time, will broaden your musical dance skills, so you're no longer limited to boogying back & forth between two feet. A surprising number of soul, funk, blues, and R&B tunes, including many of your favorite songs, have a slow-quick-quick rhythm that's perfect for dancing Rumba, and we're going to dance to a variety of these songs in the lesson. In addition to typical Rumba moves, we'll learn some new ones, borrowed from other dances. For experienced dancers, we'll show you how to convert your entire repertoire of Salsa, Bachata, and Cha Cha moves to Rumba dancing! If you like dancing to Soul, Funk, Blues, or R&B music, including live bands, then you'll enjoy adding Rumba to your repertoire.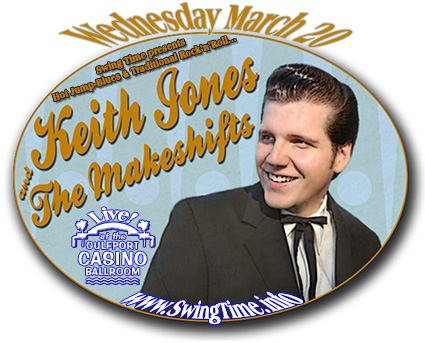 Wednesday, March 20th, Swing Time presents Cincinnati band, Keith Jones & the Makeshifts live at the Gulfport Casino Ballroom! This all-ages dance includes two free dance lessons, a Blues-Dance Lesson 6-7pm and a Swing-Dance Lesson 7-8pm, followed by Live Music & Dancing 8-11pm. Doors open 5:45pm. Admission's just $12; get your tickets at the door (cash only; no free passes, birthday passes, or student specials accepted on band nights).
Keith Jones & the Makeshifts are one of the best musical groups to ever headline the Gulfport Casino. This Cincinnati band swings hot jump-blues and traditional rock'n'roll for your dancing pleasure, and they've been a huge hit with dancers every time they've played for us before. In fact, the band currently holds the Wednesday Swing Night attendance record!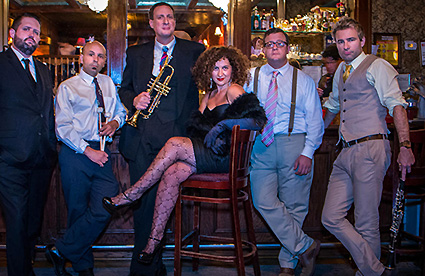 Thursday, March 21st, our friends at Palladium Theater host a concert & dance in their Side Door Cabaret featuring hot NYC swing band, Svetlana & the Delancey Five! Only 180 tickets will be sold, and yes, there will be a dance floor! Based out of New York City, Svetlana & the Delancey Five are a critically acclaimed act that have headlined sold out shows across the U.S. and abroad, from theaters and nightclubs to Jazz & Blues festivals. The band loves to play for dancers, and they include dancers onstage in many of their shows. General admission tickets are $25 in advance, but use promo code SWING (all capital letters) to get $20 advance tickets. The historic Palladium Theater is one of Tampa Bay's best and most affordable performing arts venues. It's located at 253 5th Ave N, St. Petersburg, FL 33701 (Phone 727-822-3590).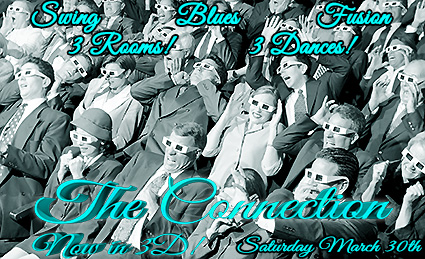 Saturday, March 30th, The Connection (Swing, Blues, & Fusion) returns to Simone Salsa studio in Tampa. The Connection features 3 simultaneous rooms of music & dancing. One $10 admission gets you into all three dances! Doors open 7:45pm. Lessons start 8pm. Dancing starts 9pm.
Join us 8-9pm for a special Fusion Lesson — How to Lead & Follow Anything — led by special guest instructor James H. Learn the three dimensions of connecting with your social dance partners — the visual, the physical, and the musical! Explore the essential elements as you transform the science of dancing to the art of partner dancing. Instructor, James H, is a West Coast Swing Champion / all-star dancer, author, coach, and instructor since 2008. The night also includes a Blues Lesson, happening 9:30-10:00pm in the Blues room. Lessons are free with admission to the dance. Dancing starts 9:00pm in the Swing & Fusion Rooms, and 10:00pm in the Blues Room.
---
GET THE SWING NEWS Delivered to Your Email

© All contents of this web site (www.SwingNews.com) except where otherwise stated are Copyright 1998-2019 Retro Production Company with all rights reserved
---