SUBSCRIBE to Swing Time's Weekly Email Newsletter
Swing Time Newsletter — Monday OCTOBER 21st 2019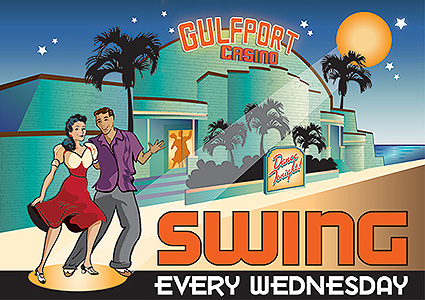 This Wednesday, October 23rd, is the Gulfport Casino Swing Night, with Lindy Hop Lesson 6-7pm, Swing Lesson 7-8pm, and Dancing 8-11pm. Just $8 includes both lessons and the dance, students get $6 admission, and birthday people get free admission.
New Year's Eve tickets are on sale this Wednesday in the Swing Time Section. We've reserved a central block of great seats for Swing Time regulars at Swingin' the New Year (St. Petersburg Coliseum). Tickets in the Swing Time Section are available to dancers who attend (and purchase them in person at) prior Swing Time events. Get them while they last!
Halloween Costume Ball — Special event Wednesday, October 30th at the Gulfport Casino Swing Night. See PHOTOS from last year's Halloween Costume Ball.
New Year's Eve — Earlybird Deadline
Save $8/Ticket through October 31st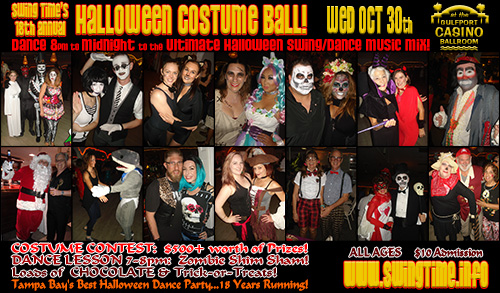 Next Wednesday, October 30th, is Swing Time's 18th Annual Halloween Costume Ball at the Gulfport Casino Swing Night. Put on your best costume and get ready to swing with all sorts of exciting characters! The Ball starts with a one-of-a-kind dance lesson: Shim Sham (with Special Zombie Styling!) 7-8pm; no partner needed. Starting at 8pm, dance 'til the midnight hour to the Ultimate Halloween Swing/Dance Music Mix... that's right! — all Halloweeny music, all the way to midnight! The Halloween Costume Ball features a Costume Parade & Contest with $500+ worth of Prizes for the best costumes. (See categories.) The Ball features loads of Chocolate, Candy & Trick-or-Treats; Door Prizes; a Zombie Shim Sham; a Steal Dance Mixer; plus Special Halloween Decor & Atmosphere. Just $10 admission includes EVERYTHING, and all ages are welcome. (No free passes or student specials accepted at this special event.) Experience Tampa Bay's Best Halloween Dance Party... eighteen years running! See photos from the last three Halloween Costume Balls.
Costume Contest — Prizes for: Best (Overall), Best Hollywood, Best SciFi, Best Disney/Cartoon, Best Superhero, Best Historical, Scariest, Funniest, and Most Original. Enter contest before 9:30pm. Prizes include a Dolphin Watch or Sunset Sail Cruise for Two courtesy of Dolphin Landings Charter Boat Center, plus many more prizes to be announced!
Mark your calendars for the next SOUL NIGHT,
coming Friday November 8th to the Gulfport Casino!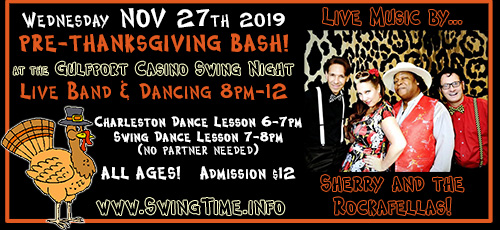 Wednesday, November 27th — With Thanksgiving on Thursday, the weekend starts Wednesday night, when Swing Time hosts a special evening of live music and swing dancing! Join in celebration at the Gulfport Casino Swing Night for Swing Time's Pre-Thanksgiving Bash! This huge swing-dance party is always one of the biggest Wednesday Swing Nights of the year, attracting not just locals but out-of-towners who are home for the holidays.
The Bash features live & swingin' music by Sherry & the Rockafellas! The evening starts with a Charleston Lesson 6-7pm, followed by Swing Lesson 7-8pm, then Live Music & Dancing 8pm-midnight. Admission's just $12 (get your tickets at the door), all ages are welcome, no partner is needed, and it all happens in the spectacular waterfront ballroom of the Gulfport Casino!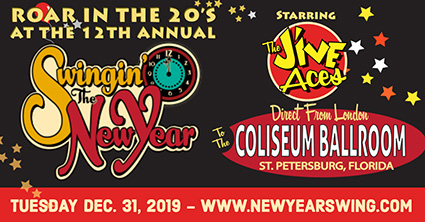 Earlybird Deadline — Save $8/Ticket — Purchase by October 31st.
Make plans now to attend Swingin' the New Year at the spectacular St. Petersburg Coliseum featuring UK swing sensations, The Jive Aces! This year's grand celebration features a midnight balloon drop, dance performances, a Roaring 20's costume contest, live music, unbeatable atmosphere, and dancing with your favorite friends! Ticket options include: A) Start or Join a Group, B) Choose Your Own Seats, C) VIP Round Tables, D) Alcoves and more. Buy tickets now to reserve the best seats, or to start a group that others can join. Swingin' the New Year is Tampa Bay's best New Year's Eve dance party...get ready for the fun to begin! See www.NewYearSwing.com for full celebration info.
---
GET THE SWING NEWS Delivered to Your Email

© All contents of this web site (www.SwingNews.com) except where otherwise stated are Copyright 1998-2019 Retro Production Company with all rights reserved
---